I love dreaming about turning my place into a beautiful park-like place. Little by little, we're adding some of the flowers I dream about. Today I'm sharing an interview with a couple of people who followed (and are still working on) their dream. Meet Jane Penders and Jay Dryden, whose dried edible flowers and lavender jelly are making people happy in their area.
The Birth Of An Edible Flower Garden
If you're interested in learning more about growing and cooking with edible flowers, you'll love leafing through these books:
Let's learn a bit about Jane and Jay's adventure. And because their dried flowers are so pretty, here are some of them to inspire you: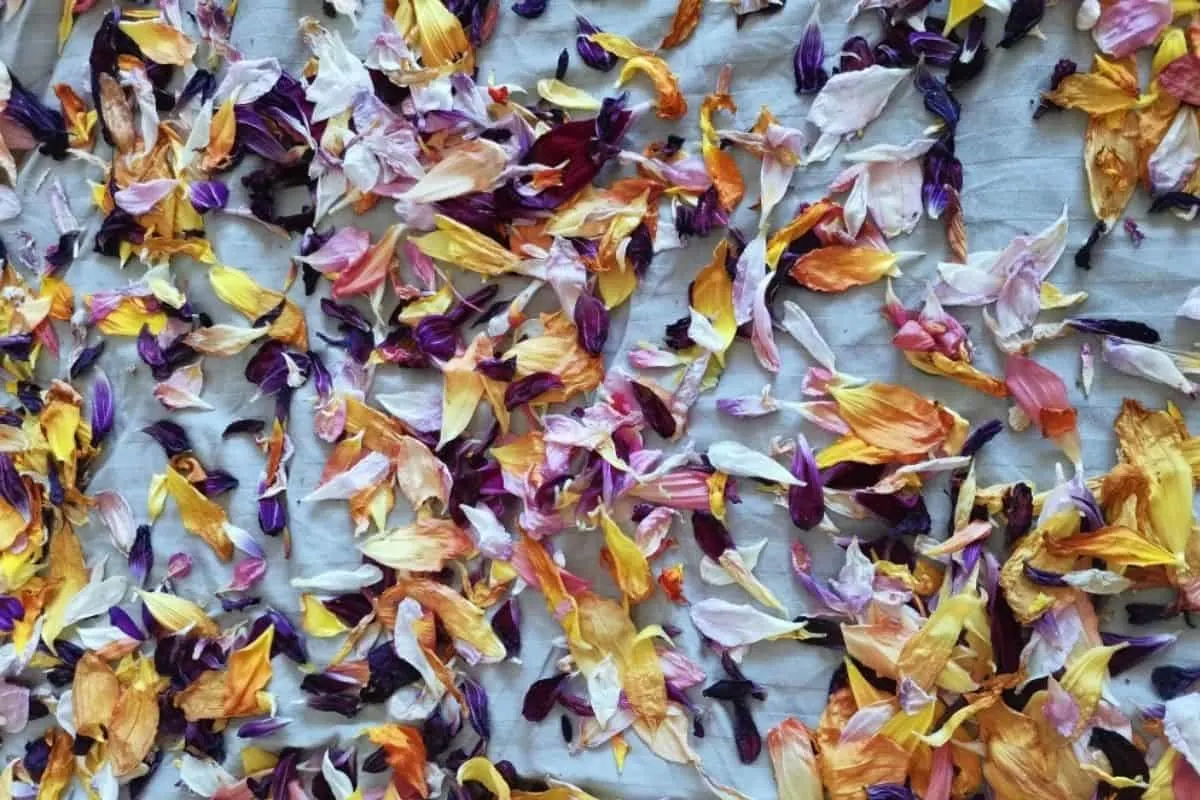 What inspired you to start a flower farm?
Jay and I met in September 2015. I live in Canberra (the capital of Australia), have always loved flowers, and used to work as a florist. Jay was living off-grid in a small country town, and when he moved back to Canberra in early 2015, he didn't want to live in the suburbs but wanted to live on some land out of town and be off-grid. I thought it would be a great opportunity to start a flower farm.
We searched for just the right place and found our farm, which is one hour from Canberra, in April 2018.
What was your purpose when you started the farm?
Our purpose at first was to start a peony farm, but after planting 100 peonies in May 2019, we also decided to experiment with other flowers.
Did you always know you wanted an edible flower garden, or did it evolve once you started planting?
I have always loved the idea of edible flowers, I like that flowers can have a multi-purpose.
I always try and dry everything I can to see how they will dry and how pretty they look. With everything we planted, just out of interest, I looked up if they were edible and found that a lot were.
We sold some fresh, but I was worried about how well they traveled, so I started drying and pressing them instead. That way they become very hardy and we can mail them. So, it just evolved that way.
Was it expensive to start your farm?
Absolutely not, you could have a flower farm in a small backyard and you can start most of your flowers from seed which is very inexpensive.
Good soil is a great place to start. You can start really small and build up over time
How about space? How much space does your farm take?
We have 4 acres but only grow on 350 square meters (about 0.8 acres): not a huge area and we fit a lot of flowers in that space.
How many flowers do you plant every year?
It varies, depending on how busy we are with other things. Jane works full-time for the government and is only at the farm on weekends, and Jay is semi-retired and maintains the farm through the week.
Last year, for example, we planted over 800 zinnia seedlings. And had about 60 dahlia plants, and cornflowers, and sunflowers. Every year we try something new to see what grows best in our area – very hot summers and cold winters, with lots of frosts.
Do you have both perennials and annuals?
Yes, we do. Having some perennials is a great idea – we have:
lavender
lilac
roses
peonies
dahlias
They can stay in the ground to save extra work for us.
Here are just a few of the annuals we grow:
pansies
stock
sunflowers
zinnias
cornflowers
We had amazing success with the zinnias and they flowered for over 3 months. We love cornflowers too: we plant seeds straight into the ground, and they flower for so long. We just pick off the heads and dry them and they keep their color beautifully.
How much time do you spend on the farm, and what are some of the daily/weekly tasks you need to attend to?
I spend each weekend at the farm and Jay is there full time.
Weekly tasks are weeding and deadheading and when ready, picking.
Daily tasks are hand watering, which Jay does with much commitment. By hand watering, he can really observe how well the plants are going.
We plan to set up a solar automatic watering system as soon as possible. We don't grow very much through winter, so that's a good time to amend the soil.
Could you maybe share a day in the life of an edible flower farmer?
Right now on the farm, it is early Spring, so we are preparing the garden beds for planting which includes weeding and soil prep. The pansies are flowering, so we pick what we can each day, usually mid-morning, and prepare them for drying.
Through summer, we water in the mornings and deadhead the flowers. If they are to be dried, dahlias, for example, we then pluck the petals and lay them out to dry.
We would also do some weeding, and if a hot day (we get up to 40 degrees in the summer), we water again in the evening.
Mid-week, Jay would pick whatever flowers are ready and drop them to florists in Canberra. If we have orders for petals or jelly, we will bag up the petals and make a batch of lavender jelly together.
Where did you learn about flower farming?
In January 2018, I completed the online flower farming course through Floret flower farm, located in the US and Jay is currently studying horticulture. As we are both in our 50s, we have lots of gardening experience and Jay used to run a landscaping business.
What methods do you use to dry your flowers and flower petals? How do you preserve them for long-term keeping?
We air dry the flowers and petals in trays inside one of our cottages, the Little Blue House. We also have a dehydrator, that we place the flowers in but we don't turn it on and let them dry naturally inside.
To preserve them, I store them in containers in my study which has no window, so is very dark and that preserves their color.
I also press flowers in my flower press, or you can press between pages of a book. We have just started drying in the microwave and results seem great, and we are interested in the freeze-drying method, although the setup can be a bit pricey.
How do/can you use dried flowers/petals?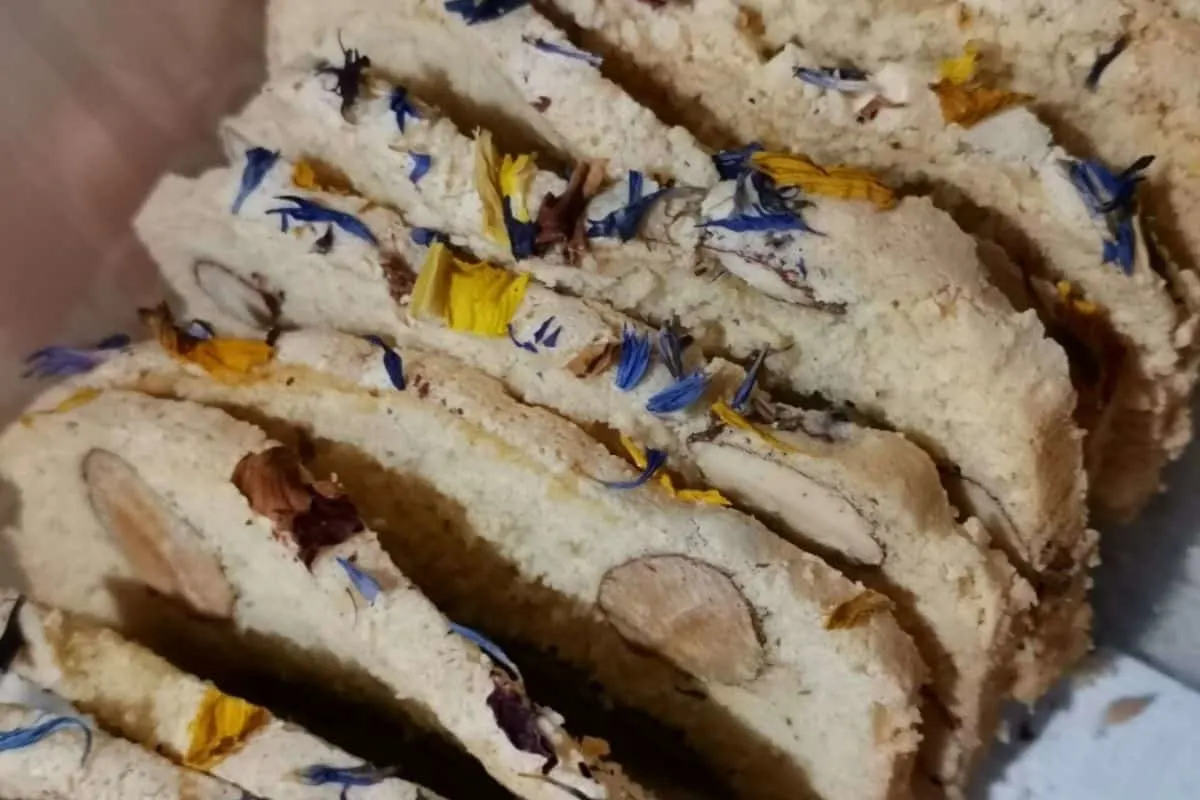 They are mostly used to decorate cakes, cookies, cheese boards, salads, fine dining dishes, cocktails, chocolate bark. They can also be used in tea blends and bath salts.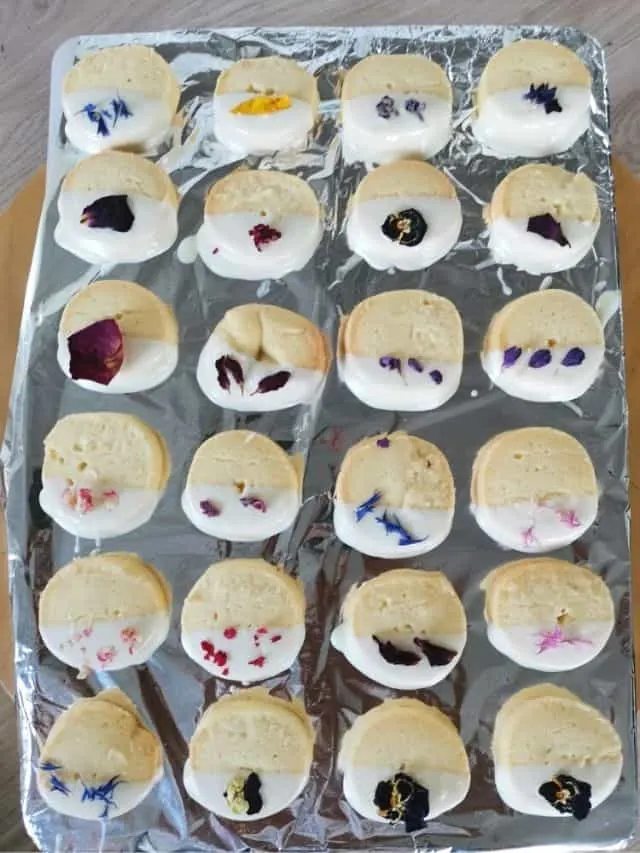 What's next for Cloudland Flower Farm? Where do you see yourself in 5 or 10 years?
I will be retired by then, so I see myself spending more time at the farm and being able to grow more.
I would love to see our flowers more widely spread throughout Australia. I hope that our Storm Cottage has lots of guests and we would like to offer workshops of some sort.
If you could give advice to a new (or future) farm owner, what would it be?
Definitely try it, do lots of research, follow lots of farms on social media, ask lots of questions, and make sure you prepare your soil – that's really the place to start.
Where can people find you and your products?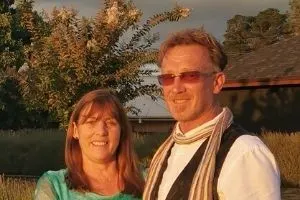 We can be found on social media, mostly Instagram or Facebook under Cloudland Flower Farm. We are located in Lade Vale, NSW, 1 hour from Canberra in Australia, and have a farm stand where we sometimes sell our products. Our products are stocked in a few stores, mainly our lavender jelly, petal shortbread, petal biscotti, and dried edible flowers and petals. Our fresh flowers are stocked in a few florists.
Thanks, Jane and Jay for your inspiring story. your dried edible flowers are GORGEOUS! I'm inspired and excited to try drying a few of my own next season.
FAQs about dried edible flowers
What dried flowers can you eat?
there are lots of edible flowers you can eat: nasturtium, lavender, pansies, peonies, coneflowers, pot marigold, hibiscus, elderflowers, and more. To learn more about edible flowers, get one of the books from this page.
How long do dried flowers last?
As a general rule, dried flowers last between 1-3 years, but it also depends on the flower! If you dry them well, handle them with care, and keep them out of direct sunlight and humidity, you should be able to enjoy your dried blooms for many years.
Where can I buy edible dry flowers?
The best place would be a local farmer, but if you can't find one there are several online stores selling them. Amazon has many options (this pack has 9 different types of edible flowers).