Given that most flowers that start with Y contain the word yellow in their common name, their lovely petals tend to bloom in golden hues. Take a look through the following list to discover some flowering plants that will add sunny color to your garden.
Annual Flowers that Start with Y
1. Yellow bell (Allamanda cathartica)
Although technically a perennial, yellow bell, or golden trumpet, is often grown as an annual in areas north of USDA zone 10. This tropical vine features evergreen foliage and can grow to 20 feet long. From summer until frost, it produces golden, trumpet-shaped blossoms.
Yellow bell grows best in organically rich, well-draining soil with medium moisture and in full sun. Where nighttime temperatures drop below 60 F, treat as an annual or plant in a container that can be moved indoors over winter.
Perennial Flowers that Start with Y
2. Yarrow (Achillea millefolium)
A hardy perennial, yarrow grows happily in many settings but is especially fitting for cottage and wildflower gardens. It produces attractive ferny foliage and tight, flat flower clusters in shades of yellow, white, orange, pink, or red. Yarrow spreads readily, making it a great groundcover.
This low-maintenance wildflower tolerates drought, heat, humidity, and poor soils. For the healthiest flowers, plant yarrow in well-draining soil and full sun.
3. Yellow bells (Tecoma stans)
Native to the Sonoran Desert, yellow bells is a hardy evergreen shrub perfect for xeriscaping or desert butterfly gardens. The showy, yellow, trumpet-shaped flowers bloom from June until frost, attracting hummingbirds, butterflies, and other pollinators.
Yellow bells tolerates extreme heat and drought, though it grows best in rich, well-draining soil in full sun. Winter temperatures below 28 F can cause frost damage.
4. Yellow coneflower (Echinacea paradoxa)
The only species of echinacea to have yellow blossoms, yellow coneflower almost looks more like a black-eyed Susan, though it has the characteristic downward-pointing petals. This unique North American wildflower blooms June through July, and if not deadheaded, it may attract goldfinches in the winter with its seeds.
Yellow coneflower thrives in full sun and dry to medium, well-draining soil.
5. Yellow daylily (Hemerocallis lilioasphodelus)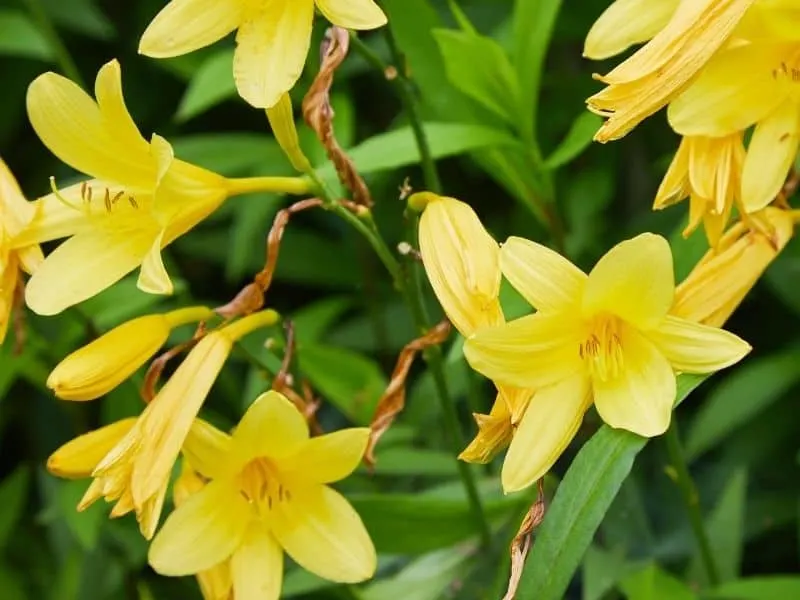 Yellow daylily, also called a lemon lily, is easy to grow in a range of conditions. Its grass-like foliage grows in clumps that crowd out weeds and can serve as a lovely border or groundcover. In mid-to-late spring, lemon-yellow blossoms open atop three-foot stems.
Yellow daylily grows best in average, well-draining soil in full sun to part shade but tolerates poor soil, heat, and humidity.
6. Yellow pitcher plant (Sarracenia flava)
Native to coastal plain areas of the southeastern U.S., yellow pitcher plant is a wonderful addition to any bog garden, though it can be a bit tricky to grow.
This unique plant is best known for the modified leaves that form narrow, lidded "pitchers." Insects that fall down these slippery tubes are digested by a liquid at the bottom. Before the pitchers form in spring, a single, bright yellow flower blooms on a stalk as tall as 36 inches.
Yellow pitcher plants are best grown in bog gardens or containers. They require damp, acidic, humusy muck, and full sun.
7. Yellow wax bells (Kirengeshoma palmata)
In late summer, yellow wax bells produces pendulous clusters of dainty, yellow, nodding flowers against a background of maple-like foliage. This uncommon plant grows well in shade gardens and is easy to care for. It has a shrub-like habit and typically grows to about three to four feet tall and almost as wide.
Yellow wax bells grows best in shady locations with moist, humus-rich soil.
8. Yellow wild indigo (Baptisia tinctoria)
Yellow wild indigo grows naturally in open woods and fields in the eastern U.S. and makes a beautiful addition to cottage gardens and wildflower meadows.
Its small, cream to yellow flowers resemble pea blossoms blooming in clusters above its clover-like foliage in late spring to early summer. The black seed pods that follow add late-season interest.
The easygoing yellow wild indigo thrives in dry to medium, well-draining soil and full sun, and it tolerates poor soils and drought.
9. Yellow-eyed grass (Sisyrinchium californicum)
A member of the iris family, yellow-eyed grass is named for its tufts of grass-like foliage and starry yellow flowers, which bloom from late spring into summer and close up by noon every day. It grows wild on the Pacific coast from southern British Columbia to California along the periphery of bogs, ponds, marshes, lakes, and other moist to wet areas.
Yellow-eyed grass is winter hardy in zones 8-10 but may be grown as a self-seeding annual north to zone 6. Although it thrives in medium to wet soil in full sun, it also tolerates drier soil and light shade.
It should be noted that Xyris torta is also known by the common name yellow-eyed grass. While less showy than S. californicum, it otherwise has a similar appearance and growing conditions but is winter hardy down to zone 3.
10. Yucca (Yucca sp.)
Although yucca is typically grown for its foliage, some species, like Y. filamentosa, produce impressively tall stalks with masses of white to pink flowers. The foliage ranges from thin, grass-like leaves to wide, thick spikes and comes in both solid and variegated hues. A xeriscape must-have, this desert native grows well in any garden with dry soil.
A rugged, low-maintenance plant, yucca only requires excellent drainage and full sun.
11. Yellow ginger (Hedychium flavescens)
Native to the Himalayas, this lovely scented perennial grows to 6 feet tall between mid-summer and late fall. You'll find it along roadsides and forests that offer a humid environment.
Ready to add some golden-hued blooms to your garden? You have plenty of options to choose from, for a wide range of gardens!