Plants may not play music, but their brightly colored blossoms can put a smile on your face! To give you some ideas for how to add a bit of cheer to your garden, here are nine jazzy flowers that start with J.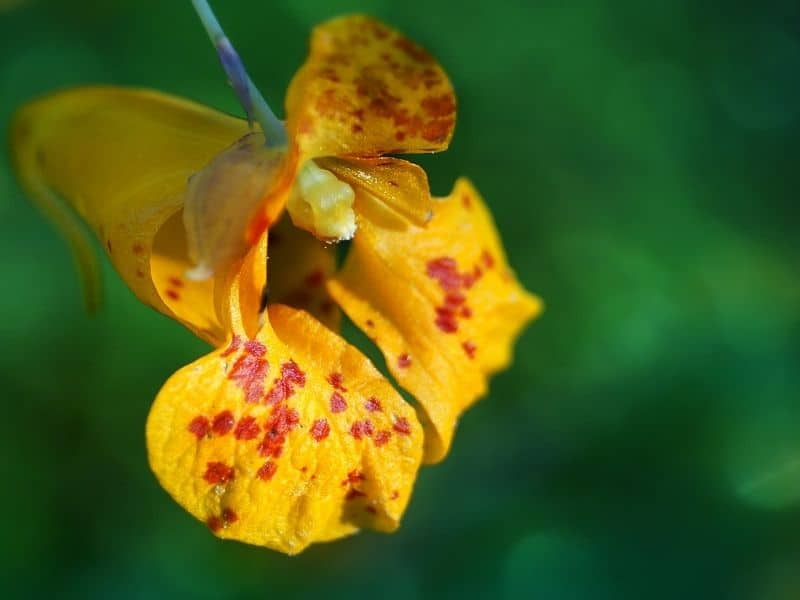 Annual Flowers that Start with J
1. Jewelweed (Impatiens capensis)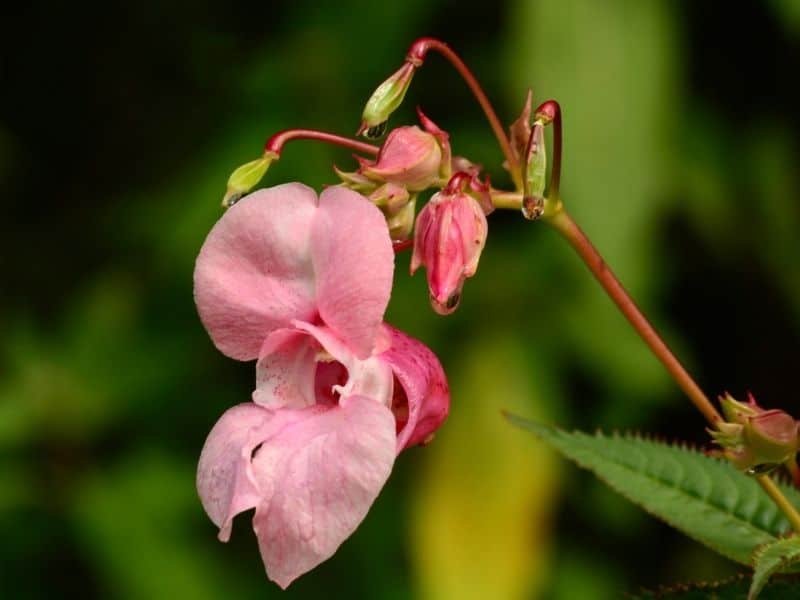 Featuring small but showy, bright orange, snapdragon-like flowers, jewelweed is as beautiful as its name. It grows two to five feet tall in its single year of growth, and its tiny seed pods burst open at a touch when ripe, much like those of the closely related touch-me-not. Jewelweed attracts hummingbirds, bees, butterflies, and other pollinators with its lovely blossoms.
Native to northern and eastern North American woodlands, jewelweed thrives in moist soil and part shade. It will self-sow once established, making it perfect for cottage gardens, wildflower plots, and woodland gardens.
Perennial Flowers that Start with J
2. Jack-in-the-pulpit (Arisaema sp.)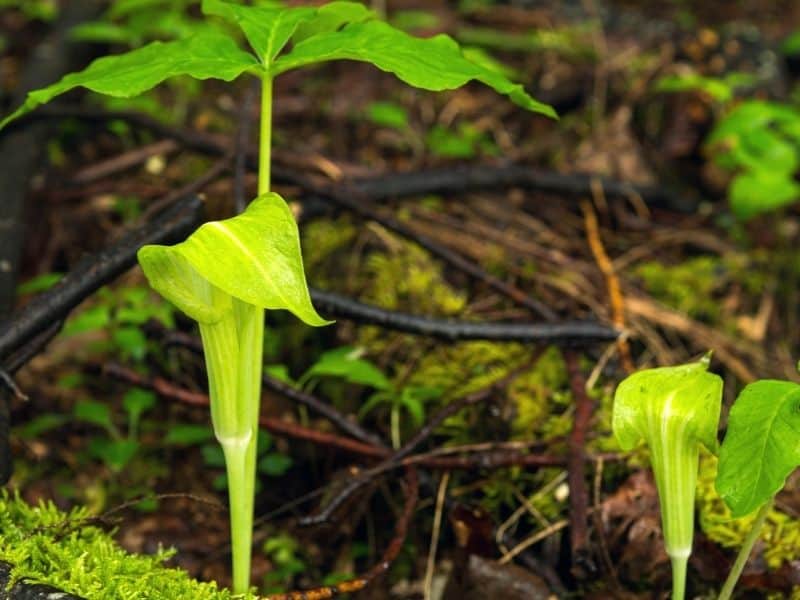 This unique wildflower blooms in the spring with a hooded, cuplike flower in shades of cream, green, burgundy, and brown. In mid-to-late summer, a cluster of red berries forms as the flower fades. As a woodland native of eastern North America, Jack-in-the-pulpit prefers rich, damp, acidic soil in a shady location. In fact, it will even grow well in those wet or boggy areas of the garden.
3. Jacob's ladder (Polemonium sp.)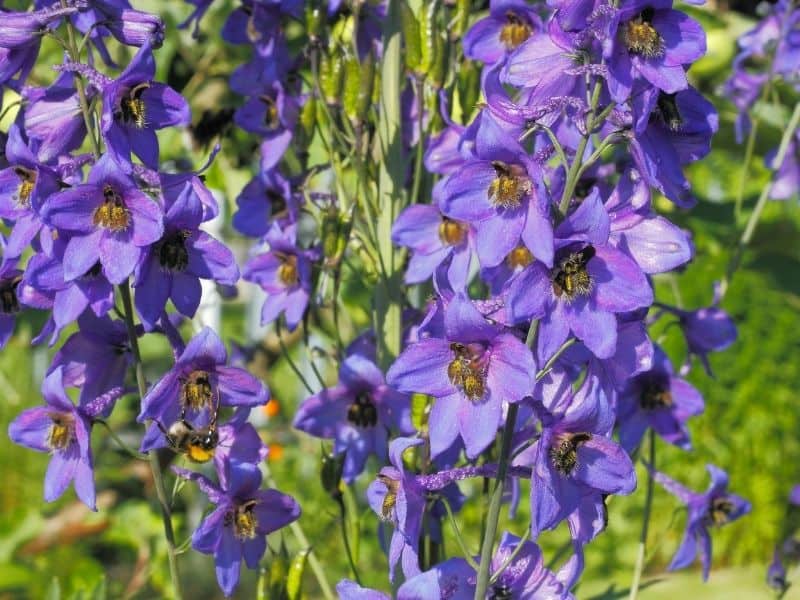 Clusters of delicate, purple, bell-shaped flowers bloom in the spring over attractive ladder-like compound leaves for which Jacob's ladder was named.
This woodland native grows best in rich, well-draining soil and part to full shade. Some varieties will tolerate full sun as long as they are not allowed to dry out.
4. Japanese hydrangea vine (Schizophragma hydrangeoides)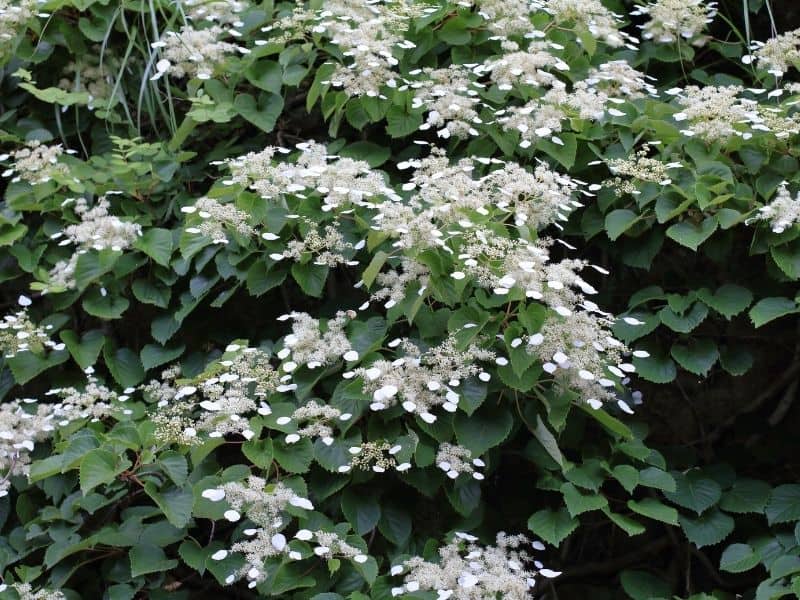 Similar in appearance to a climbing hydrangea, the Japanese hydrangea vine features flat clusters of tiny white flowers in the summer. Some varieties produce pink flowers or have attractive leaves in blue or silver hues.
A Japanese hydrangea vine can grow to 30 feet or more, so good support is imperative. This native of Korea and Japan prefers well-draining soil and partial shade.
5. Jasmine (Jasminum sp.)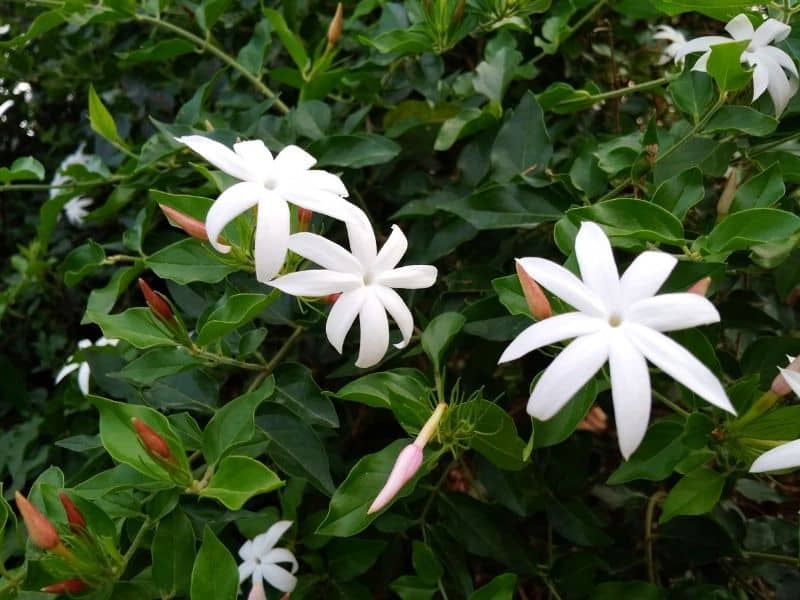 Best known for its fragrance and use in tea, jasmine produces an abundance of small white flowers that fill the garden with their beauty and scent.
Vining types are perhaps some of the more popular varieties, though these can become invasive in warmer regions and create a dense mat of foliage. The lesser-known shrub jasmines are less aggressive but require a bit more maintenance, and some can be trained to grow as a vine.
Most jasmine varieties will grow happily in full sun to part shade, though more shade leads to fewer flowers.
6. Jerusalem artichoke (Helianthus tuberosus)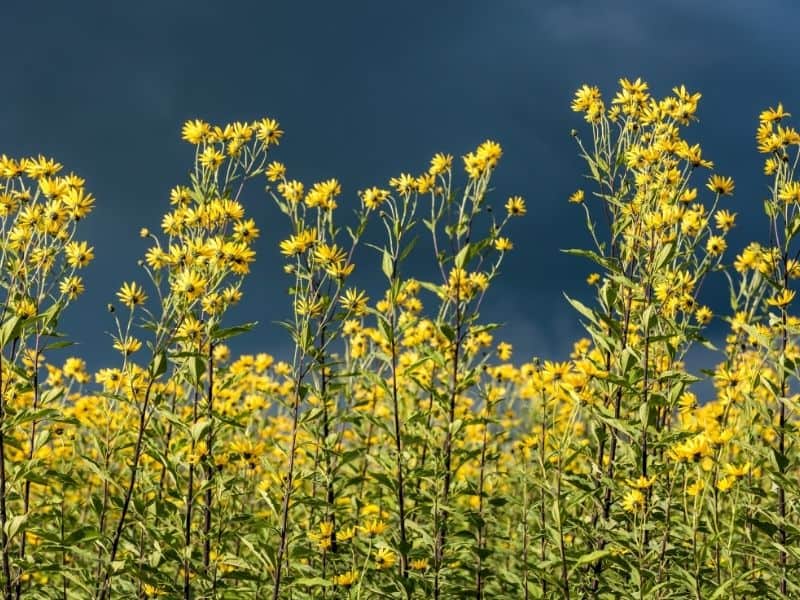 Although often grown as a perennial vegetable, Jerusalem artichoke also produces cheery yellow flowers that brighten up wildflower meadows, pollinator gardens, and cottage gardens. And despite its name, it is a member of the North American sunflower family.
Plant Jerusalem artichokes in well-draining soil in a sunny or partly shaded location. Consistent moisture is best, but they will tolerate some drought. Note that Jerusalem artichoke can become invasive in some areas.
7. Jessamine (Gelsemium sp.)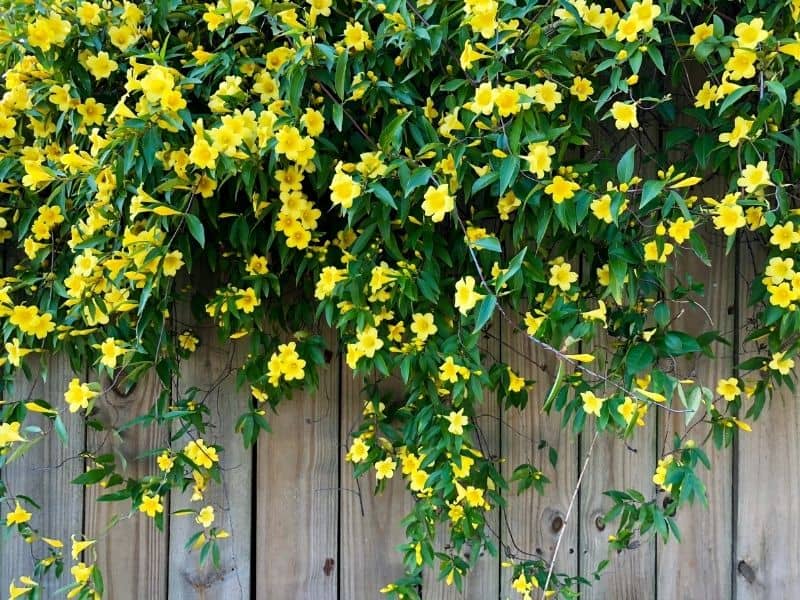 There are two main types of Jessamine: the popular Carolina jessamine, the state flower of South Carolina, and swamp jessamine. Both fast-growing native vines produce bright yellow flowers, though only Carolina jessamine gives off a lovely sweet scent. The Carolina vine blooms in spring, and the swamp vine in both spring and fall.
While Carolina jessamine appreciates fertile, well-draining soil and will tolerate drought once established, swamp jessamine prefers regular watering and will tolerate occasional boggy conditions.
The flowers and foliage grow better in full sun, though the vines will tolerate partial shade.
8. Joe Pye weed (Eutrochium sp.)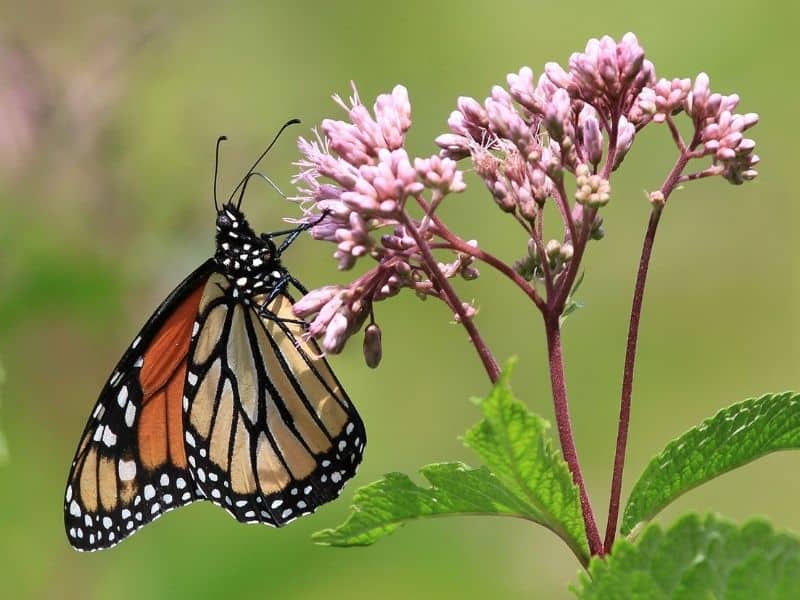 Reaching up to eight feet tall, this native wildflower makes quite a statement in the garden with its airy pink flowers and deep green foliage. In addition, Joe Pye weed attracts butterflies and other pollinators, tolerates drought, and is unappealing to deer.
Joe Pye weed adapts well to many types of soil, though as most species grow naturally around water sources, they tend to prefer rich, well-draining soil with consistent moisture.
Plant in full sun.
9. Jonquil (Narcissus jonquilla)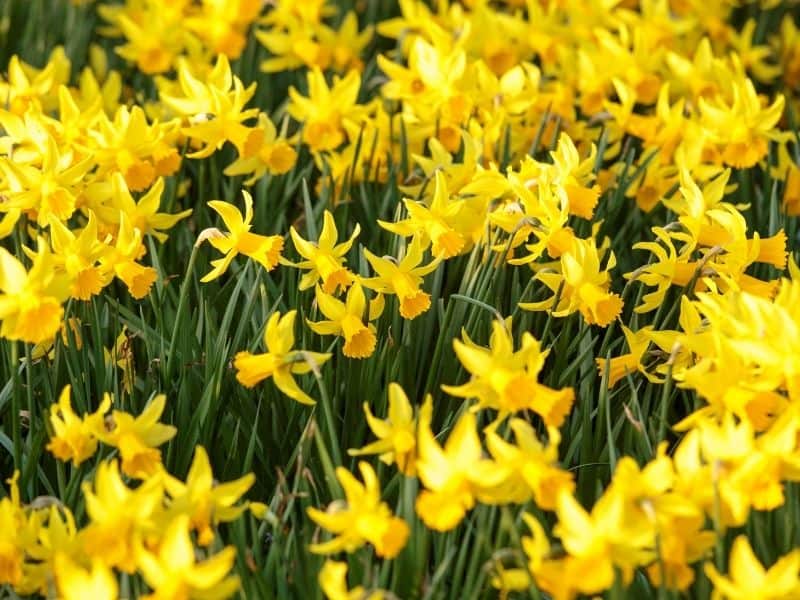 This specific species of daffodil shares all of the wonderful traits that its cousins exhibit: cheerful, yellow, bell-shaped flowers in early spring, deer and rodent resistance, and low maintenance. Plus, jonquils produce up to five golden blossoms per stem and often have a lovely fragrance.
Plant jonquils in rich, well-draining soil in a location that receives at least six hours of sunlight each day during the spring blooming season.
I hope this list of nine jazzy flowers that start with J has given you some joyful ideas for brightening up your garden with cheerful blooms.