Beekeeping is a gear-intensive hobby that requires equipment for the beekeeper, equipment for the bees, and equipment to extract the honey. Obtaining your gear in the form of starter kit bundles can often save you significant money to get you started with beekeeping.
Beekeeping starter kits can be a cost-effective way to accumulate the equipment you need to get started beekeeping. You will need a starter kit for personal protection equipment, beehives, beekeeping tools, and honey harvesting equipment. These can be sourced as starter kits for reasonable prices.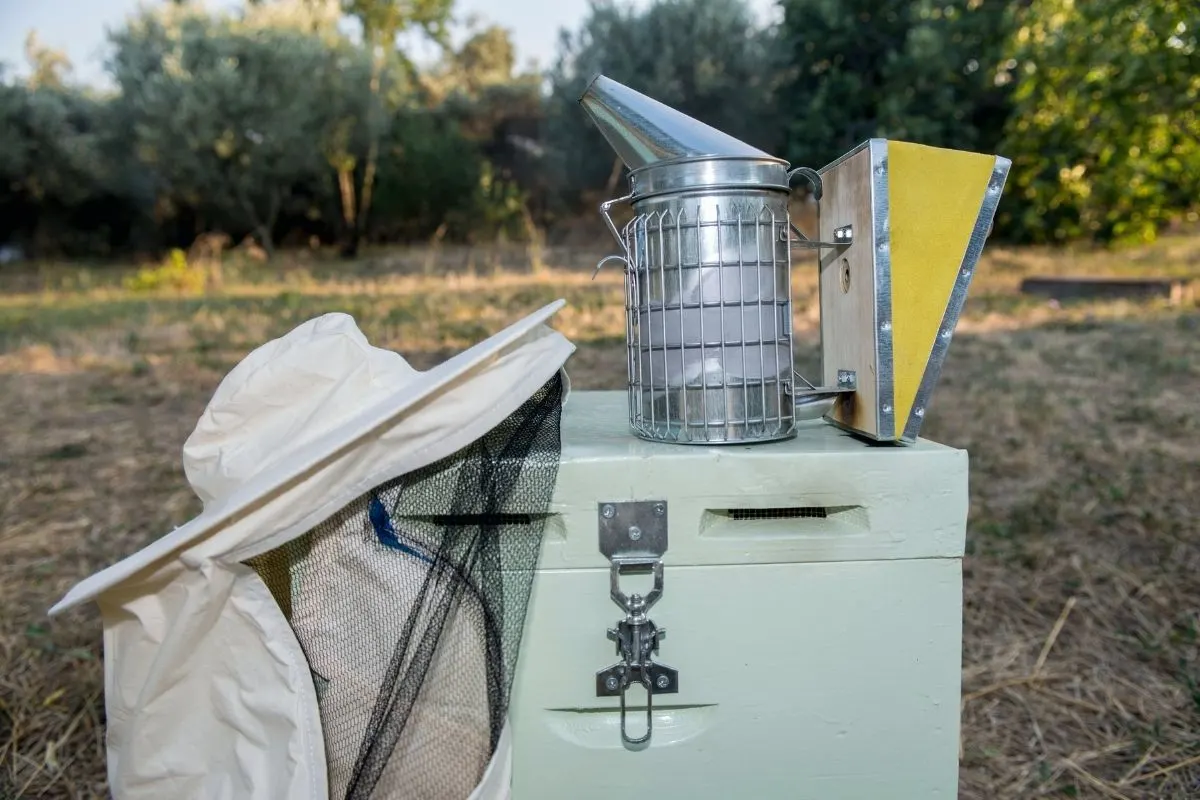 Many beekeeping suppliers bundle certain types of gear together for beekeepers that are appropriate for certain tasks in beekeeping. The prices on these bundles can be a more cost-effective way to build up your beekeeping gear than buying your gear piece-by-piece. The one thing to watch in these bundles is the quality of the gear included in the package.
Starter Kits For Beekeepers
Starter kits for beekeepers can save you a significant cost outlay when starting your beekeeping endeavor, but you need to be wary if the deal sounds too good to be true!
Starter kits are popular in the beekeeping industry, which has led to some unscrupulous suppliers selling off substandard gear in the form of bundled kits.
We have vetted some of the best kits available to ensure you get quality beekeeping products when you get your equipment.
There will often be some crossover gear in different starter kits, which could mean you get duplicate gear. For example, you may get a hive tool bundled with a beekeeper PPE starter kit and a hive tool bundled with a starter hive kit.
This is not necessarily bad since duplicating certain gear can be very useful, especially hive tools! Take it from an experienced beekeeper: you can never have too many hive tools! It is probably the most indispensable tool in beekeeping and the tool that gets misplaced the most!
While beekeeping can be done independently, it is always more enjoyable and often safer when doing it with another person. This is another potential bonus for getting duplicate gear in different bundles. You will have extra equipment that another beekeeper can use to help you out.
However, we have selected our recommended starter kits to minimize the number of duplicate pieces of equipment as much as possible.
The beekeeping starter kits are normally grouped into four main categories:
beekeeper PPE
beehive kits
beekeeping tools
honey harvesting kits
Beekeeper PPE starter kits
Personal protection equipment or PPE is an important component for beekeepers. Receiving too many stings can be a potentially life-threatening event that can be avoided with the right protective gear.
Bee colonies have different temperaments; some are more aggressive than others, and local conditions can change a colony's mood while working in a hive, causing the bees to become more aggressive.
It is always advisable to wear your beekeeper's PPE every time you work on the hive, especially as a beginner beekeeper.
The items that should be included in the personal protection beekeeper starter kit are the following.
A bee suit – As a beginner, it is preferable to use a full suit rather than just a veil. Suits made from thicker material are preferable to thin material that the bees could sting through.
Beekeeping gloves – When working with bees, your hands are one the most likely part of your body to sustain stings because your hands are close to the bees. Leather gloves are usually good enough, but in some regions where the bees are more defensive, rubber gloves work better to keep the stings out.
Even within gear bundles, you can get varying prices, which often indicate differences in quality and technology used to manufacture the equipment. The same is true of beekeeping PPE gear, and going too cheap can result in inadequate protection.
We have selected several options which we believe provide good protection for the value, but going any cheaper would risk getting products that could potentially compromise your safety.
Beekeeping boots are another part of your PPE but don't come included in any starter kits due to the variations in individual needs. My personal preference is for leather hiking-style boots that come above the ankle, but other beekeepers prefer gumboot or wellington-style boots for beekeeping.
Whichever style you prefer, ensure you get a good pair of boots that resist the beestings and provide adequate protection around your ankles.
Budget beekeeper PPE starter kit
This beekeeping suit and gloves combination is our choice for the lower end of the budget scale and would provide good protection in most beekeeping situations. The Professional Beekeeping Suit Starter Kit is inexpensive and includes the suit and a pair of goatskin gloves.
The suit is a one-piece jumpsuit design made of a cotton blend designed to keep the beekeeper cool in the hot sun. The elasticated cuffs help keep the suit in place on the arms and legs, avoiding creep, exposing bare skin to the bees.
Strong zips with the added security of Velcro tabs over the zipper helps to keep the bees from finding gaps in your suit. The veil is a fencing-style veil that gives adequate visibility.
The gloves are goatskin leather over the hands with long cuffs made from a cotton/linen blend. The gloves' cuffs are also elasticated to keep the bees at bay.
Best beekeeper PPE starter kit
Our second selection for a beekeeper PPE starter kit is the preferred choice but still comes in cheaper than you could buy the gloves and suite separately.
The MS Professional 3 Layer Bee Suit costs a little more, but the better quality suit is worth the extra cost. This is a ventilated suit made of 3-layers of mesh, which comes in handy if your summer temperatures are very warm.
The hood not only opens when it is in place on the suit, but it is also detachable from the suit as well, which is convenient for washing the equipment.
The gloves have leather over the hands providing for hand dexterity while wearing the gloves, and long fabric sleeves with elasticated cuffs.
The handy sizing chart helps you to find the size suit that will fit you correctly.
Beehive starter kits
Beekeeping requires a suitable home for your bees and should be a design that is attractive to the bees and easy for the beekeeper to manage and maintain.
Our recommendation for beginner beekeepers is to use Langstroth beehive designs since this design has proven to be easy to work with from a beekeeper's perspective. The bees seem to like the structure.
The Langstroth design is modular, which allows you to build up the hive as your colony grows and reduce the hive's capacity during times of dearth where a smaller hive is better for the bees.
There is a benefit to using Langstroth hives in that the hives are built to the same dimensions, so the super chamber for one hive is interchangeable with another Langstroth hive. This interchangeability helps to save costs when starting out beekeeping.
A Langstroth hive kit should include the following minimum components.
A brood chamber with a baseboard – This is the chamber where the queen bee will live, lay eggs and raise new workers.
An entrance reducer – This will allow you to reduce the hive's opening, which is useful to control pests and keep the hive warm in winter.
One super chamber – The super chamber, sometimes called the honey super, is shallower than the brood chamber, and this is where the bees will store the honey for you to harvest.
A beehive lid – The lid must be weatherproof and give adjustable ventilation for the colony.
10 deep frames with foundation – These are the frames for the brood chamber, and the foundation is where the bees will build the comb. The foundation encourages the bees to build straight, preventing cross-comb, which makes extracting the frames difficult.
10 medium frames with foundation – These frames are for the super or honey super, and you will harvest your honey from these frames.
A queen excluder – This is either a plastic or metal sheet that separates the brood chamber from the super, not allowing the queen access to the honey super. You want to keep the queen out of the super so she does not lay eggs in the comb where the honey will be stored.
We have two beehive starter kits that we are recommending for beginner beekeepers, the first option is slightly cheaper, but the second is a more robust, better-finished product.
If you have DIY aspirations and are comfortable working with wood, it is very easy to build your own beehives. If you can make a box out of wood, you can build your own beehive from scratch. If this project appeals to you, you can access free plans for a Langstroth hive and frames from the Ontariobee website.
Budget beehive starter kit
The CO-Z Beehive is a lower-priced starter beehive kit that may suit the budget better for beginners, but a little more work must be done on this beehive to get it ready for the bees.
This hive starter kit comes with the minimum requirements we presented earlier, including the brood chamber, one super, 10 frames for the brood chamber and super, foundations sheets, and a lid protected with aluminum sheeting.
The beehive starter comes disassembled, so you need to assemble the brood box, super, and frames yourself. However, this is not a complicated process, and no special tools are necessary to put the hive together.
Everything necessary to build the beehive is included in the kit, including the nails to knock everything together.
The CO-Z Beehive is priced at around $100, but the outside of this hive is unfinished and will need to be waxed to protect it from the weather. Never wax the inside of the hive: this must remain raw wood.
Best beehive starter kit
Our second selection for a starter kit for your beehive is the AliBees Beehive Kit, which is slightly more expensive, but we believe it is also a better overall product.
The AliBees Beehive Kit comes with all the recommended parts that we mentioned, but this hive has been dipped in beeswax to provide a protective coating on the wood to protect it from the environment.
This hive requires assembly, but an instruction manual and all the fasteners required to construct the hive are included in the kit.
Beekeeping tools starter kits
You need a certain minimum toolset for beekeeping tools to get you going, and any starter kit offering additional tools would be a bonus.
The minimum beekeeping tools you should look for in a beekeeping toolset should include the following tools.
A hive tool – This tool is used to pry the hives open and loosen the beehive frames to allow them to be lifted out of the hive. This is an indispensable beekeeping tool.
A bee brush – This is a soft-bristled brush to gently brush bees off a frame or even brush them off your suit before leaving the apiary area.
Bee smoker – A smoker is necessary to puff smoke over the bees to help keep them calm while you work in the hive.
A queen clip – A queen clip is useful to isolate the queen and protect her while working on the rest of the hive. It will prevent accidents where you could lose or kill the queen.
Beekeeping supplies starter toolkit
The Beekeeping Supplies Starter Toolkit offers all the necessary tools and some extras that are more relevant for harvesting operations than hive maintenance.
This is where the aspect of crossover of items in starter kits that we mentioned comes into play. The Beekeeping Supplies Starter Toolkit is reasonably priced and comes with a smoker, frame grip, 3 different hive tools, a queen clip, a queen marker, a bee brush, two types of uncapping forks, and an uncapping knife.
The kit also includes a pair of goatskin gloves, which you could keep as a spare pair of gloves if you already own a pair.
Honey harvesting starter kits
Some equipment is needed to harvest the honey, extract it from the comb and filter the honey. Your honey harvesting start kit should include the following items.
Uncapping fork – A special fork to uncap the comb cells containing the honey so the homey can drain freely.
Double honey strainer – This is a special double strainer that twice-filters the honey in a single pass.
Honey gate – This special tap can be fitted to a food-grade plastic bucket and is used to dispense the honey.
5-gallon food-grade plastic bucket – Most kits do not include a bucket because of the logistics of shipping such a bulky item, and these buckets should be readily available at your local plastics shop.
Basic honey harvesting starter kit
Our selection for a starter kit for this aspect of your beekeeping is the Honey Harvesting Kit which includes the double filter, honey gate, uncapping fork, nylon filter-bag to squeeze the honey out of the comb, a queen clip, and a frame grip.
This kit is another example of some crossover of equipment between kits, but it is a good purchase. The kit does not include the 5-gallon plastic bucket, which would be impractical for shipping purposes.
Conclusion
Starter kits for beekeeping are a good way to save some money when collecting all the gear you need to start your beekeeping endeavor. Starter kits offer value for money and discounts for buying multiple items together. Still, you need to ensure that the items packaged are quality items that will last well during your beekeeping quest. Settling for cheaper products will result in the need to replace gear sooner than you expected.
Contacting local beekeepers in your area will also be a good opportunity to source some spare gear they may have at an even better price, and you get to make a new beekeeping contact!
Adriana Copaceanu is a passionate nature lover living in the country on her dream property where she grows vegetables, lavender, and wildflowers that she shares with the wildlife they attract. When she's not in the garden, she loves spending time with her chickens and planning her next nature project.